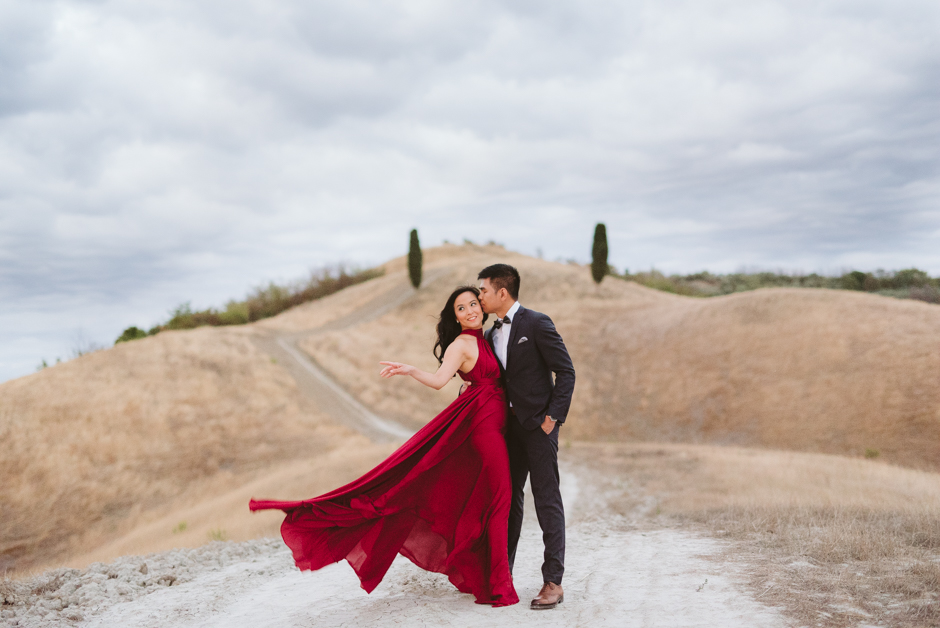 When you think about Tuscany you might imagine some of these things: rolling hills, cypresses, vineyards, olive trees and old charming towns. I put together all these elements for this prewedding session that took place in two parts: the first one at sunset into the wild nature and the second one, the day after at sunrise along the lanes of an ancient town, San Gimignano.
Vanessa and Carl are both from the Philippines and a few years ago they decided to move to Germany to experience the European life. They decided to have their engagement session done in Tuscany because they fell in love with this land during a trip they did around Siena, San Gimignano and Florence.
I sent them a list of some charming and typical locations that would have offered a mix of nature and architecture and they decided to do the sunset shooting in the Chianti region among olive trees, dusty roads lined with cypresses on the sides and amazing views of the rolling hills called crete senesi.
I always encourage my clients to wear something unique and particular and long dresses are perfect to this extent because they follow the movements of the body becoming pretty scenographic when the wind blows. Needless to say that I loved Vanessa's red dress, I think it was just perfect.
Photographer Tuscany | Engagement session on the rolling hills of Chianti
Prewedding shooting in the Tuscan countryside between Florence and Siena